Since Roman times, it has been held that certain resources, such as air and water,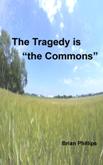 could not and should not be privately owned, but instead held "in common." Today, "the commons" movement seeks to destroy private property rights by equating air and water with such man-made values as the Internet and the electrical grid. This booklet examines the ideas behind "the commons" and demonstrates how property rights can be applied to air and water.
The booklet is available for Kindle and Nook, and in PDF. All versions are only $1.99.  Click below to order.
Kindle
Buy PDF via PayPal